Indoor Courts
ELEVATE FITNESS LIVERPOOL and ELEVATE FITNESS DEWITT
7455 Morgan Rd Liverpool (or 5791 Widewaters Pkwy, Syracuse, NY 13214)
Liverpool Drop in Monday – Friday 5am-9:45am and 11:45am-2:45pm, $10 for non-members
Unlimited Membership is $60/month
Leagues Wed/Thurs/Fri afternoons
Dewitt Open Play M-F 12-3
Contact Brook at 315-256-5519 for more info.
Elevate courts are often available for private play by calling 315-451-5050 after 7A.M.
Same Day reservation rate is $25/hour which gets two pickleball courts.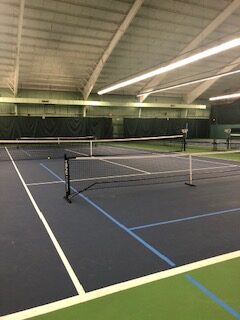 TIPP HILL COMMUNITY CENTER
201 Hamilton St, Syracuse, NY 13204
See sign-up sheet for drop in hours and league sign ups.
Contact: Brook Bregman @ cnypickleball.com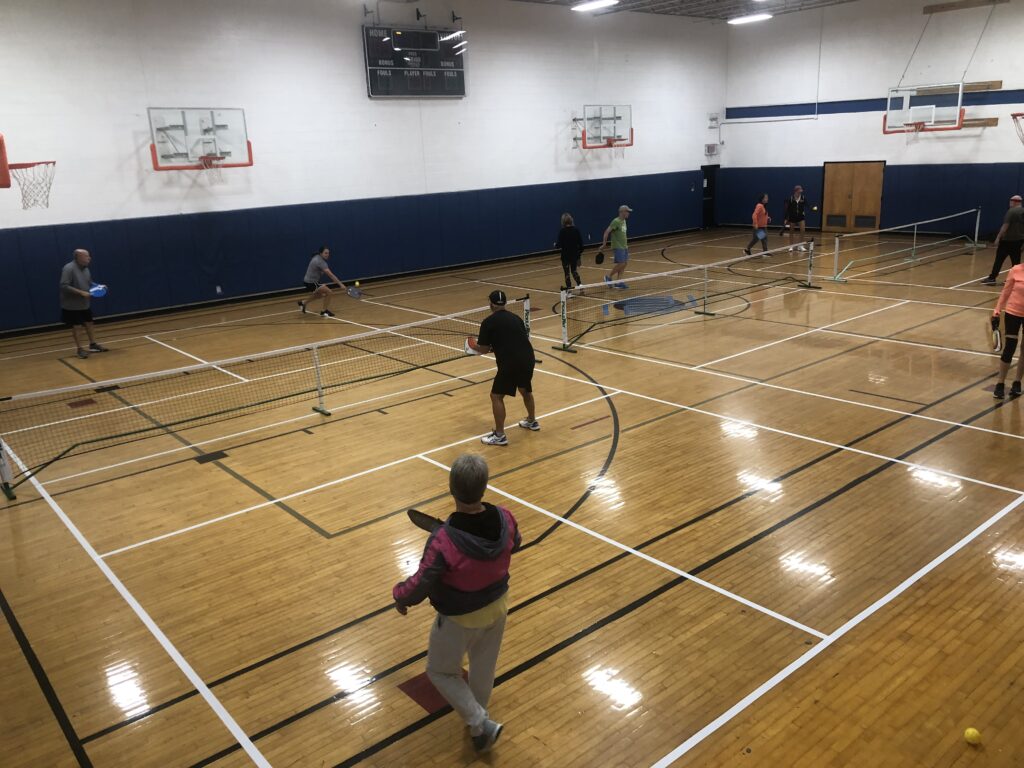 CATO/MERIDIAN COMMUNITY RECREATION CENTER
285 Rt 370, Cato
Rec center is attached to Middle School Bldg.
See sign-up sheet for hours. No charge for 1st time play then $3 Pay to Play.
Contact: Sue Pierce, Site Coordinator 315-751-7771 or e-mail suepierce34@gmail.com.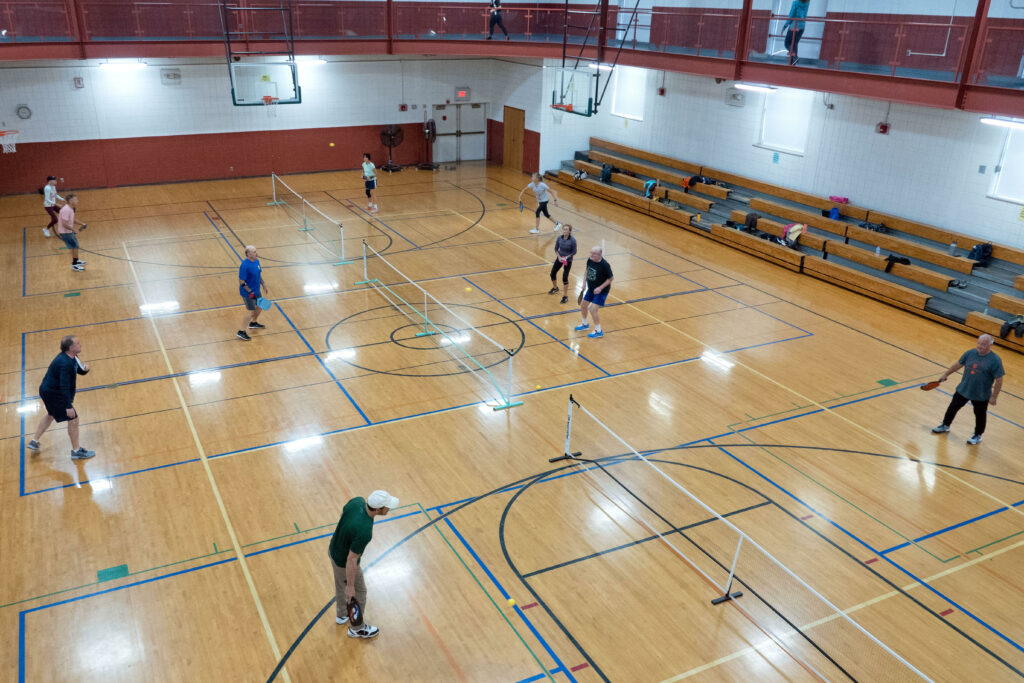 CITI BOCES
179 County Route 64, Mexico, NY 13114
Follows the School Calendar and Snow closings. No fee.
Contact: Melanie Soucy 315-529-7933

MAGNARELLI COMMUNITY CENTER
2300 Grant Blvd/Pond Road, Syracuse NY
Entrance on McChesney Park Rd. 315-473-2673
MUST BE 55 YRS. No Charge.
See sign-up sheet for hours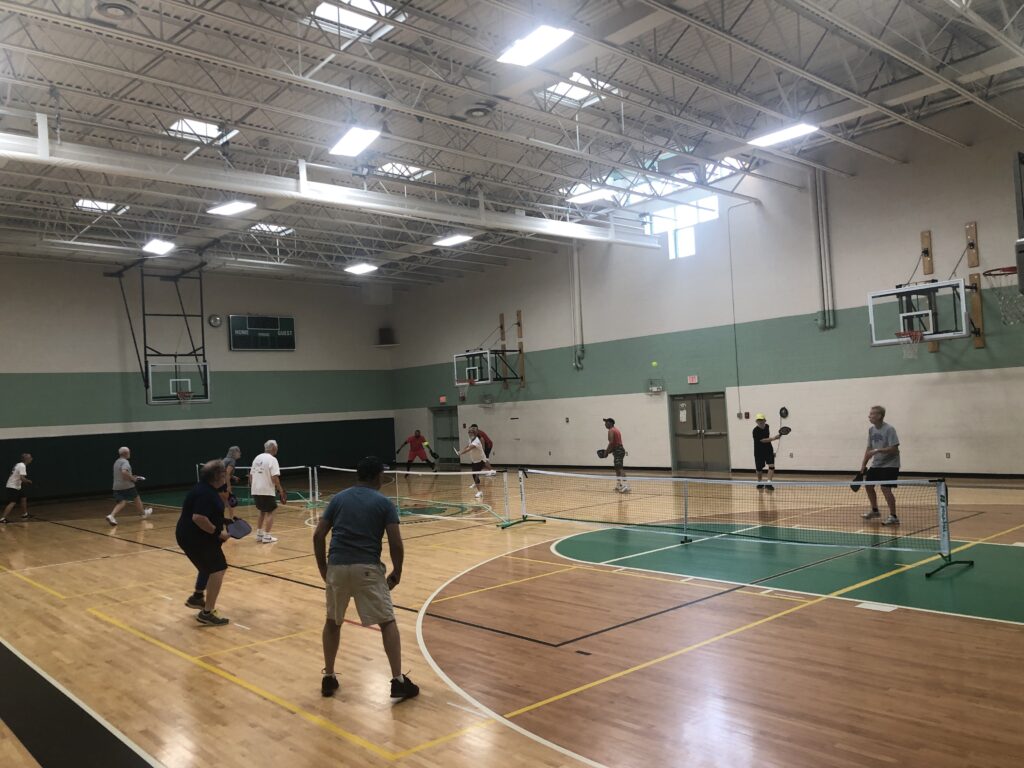 EAST AREA YMCA
200 Towne Center, Fayetteville NY 13066, 315-637-2025
Must be a YMCA member.
See sign-up sheet for hours
Contact: Brendon Sammon. 315-637-2025 ext. 232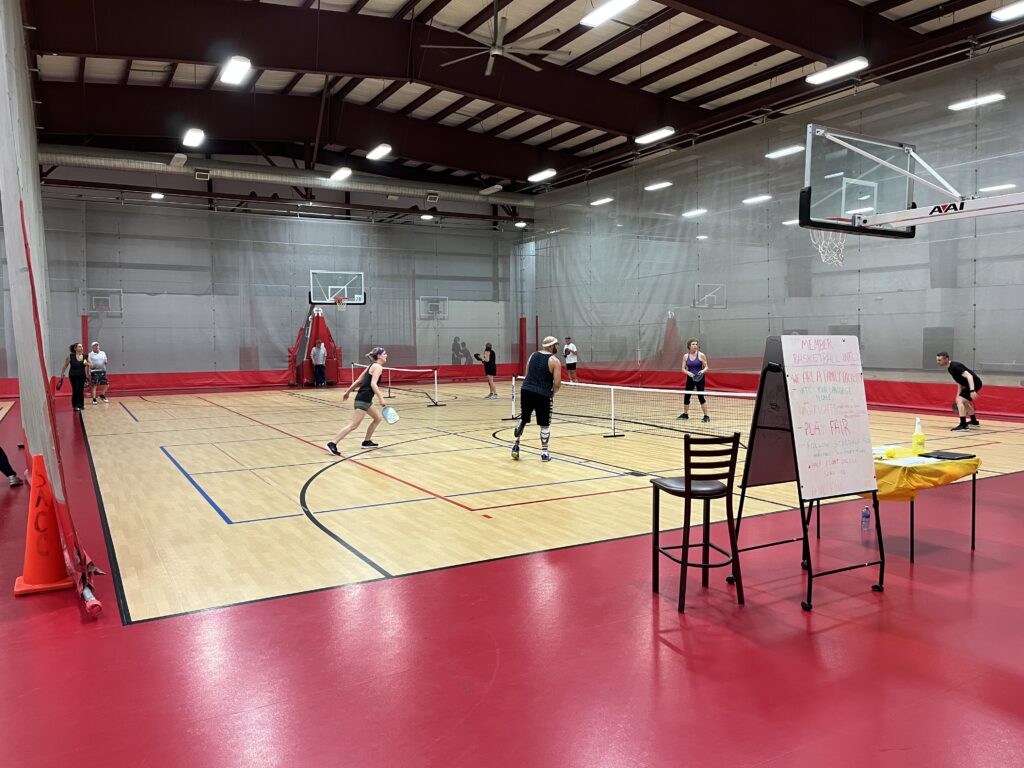 DOWNTOWN SYRACUSE YMCA
340 Montgomery St, Syracuse, NY 13202 315-474-6851
Must be a YMCA member.
See sign-up sheet for hours. 1 court
Contact: Walter Gaceta 315-474-6851
NORTHWEST YMCA
8070 River Rd, Baldswinsville, NY 13027 315-303-5866
See sign-up sheet for hours.
YMCA Members Only.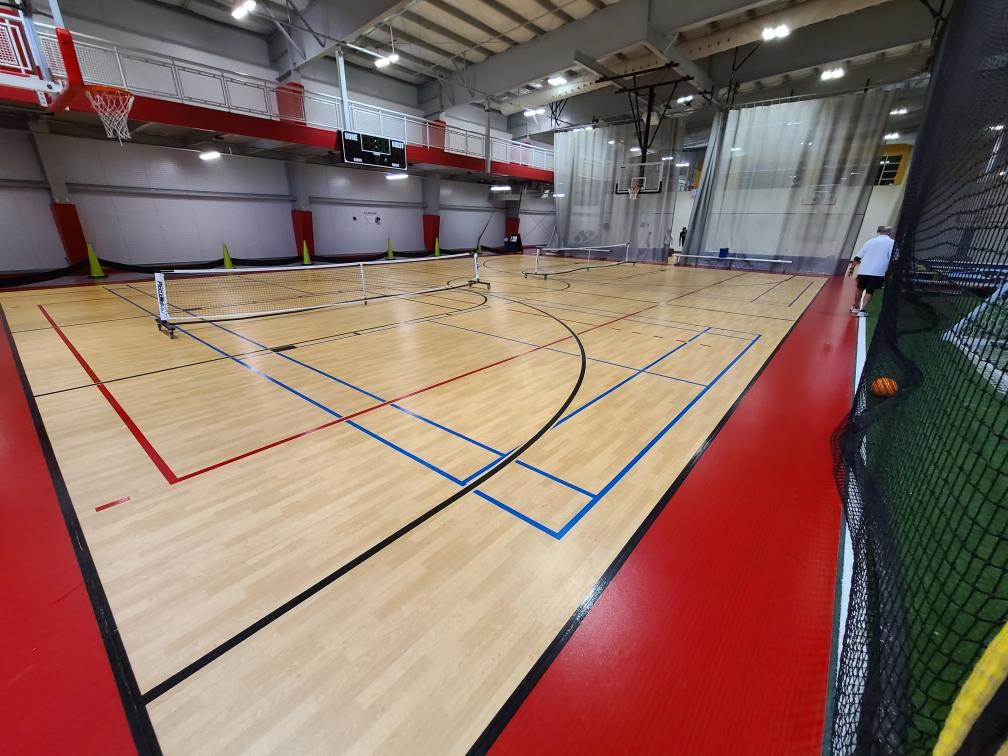 NORTH YMCA
4775 Wetzel Rd, Liverpool, NY 13090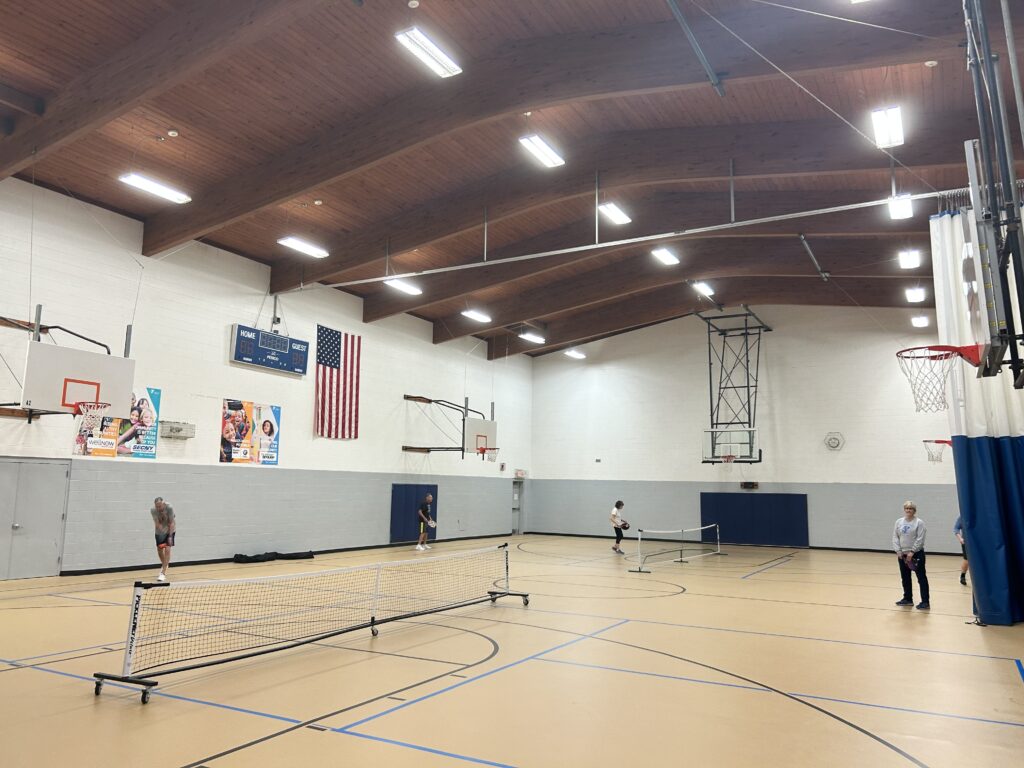 OSWEGO YMCA
265 West First Street, Oswego
Phone number: 315-342-6082
Fees: Free to Oswego YMCA members
Non-members: $5 per play (or purchase Pickleball Play Punchcard for 10 plays / $50
See sign-up sheet for hours
SKANEATELES COMMUNITY CENTER
97 State Street, Skaneateles, NY 13152 315-685-2266
Has open Pickleball on 3 courts Tuesday, Thursday and Saturday from 8:00 AM to 11:00 AM
Sundays 3 courts are available from 8:00 AM to 10:30AM. Mon & Wed for beginners.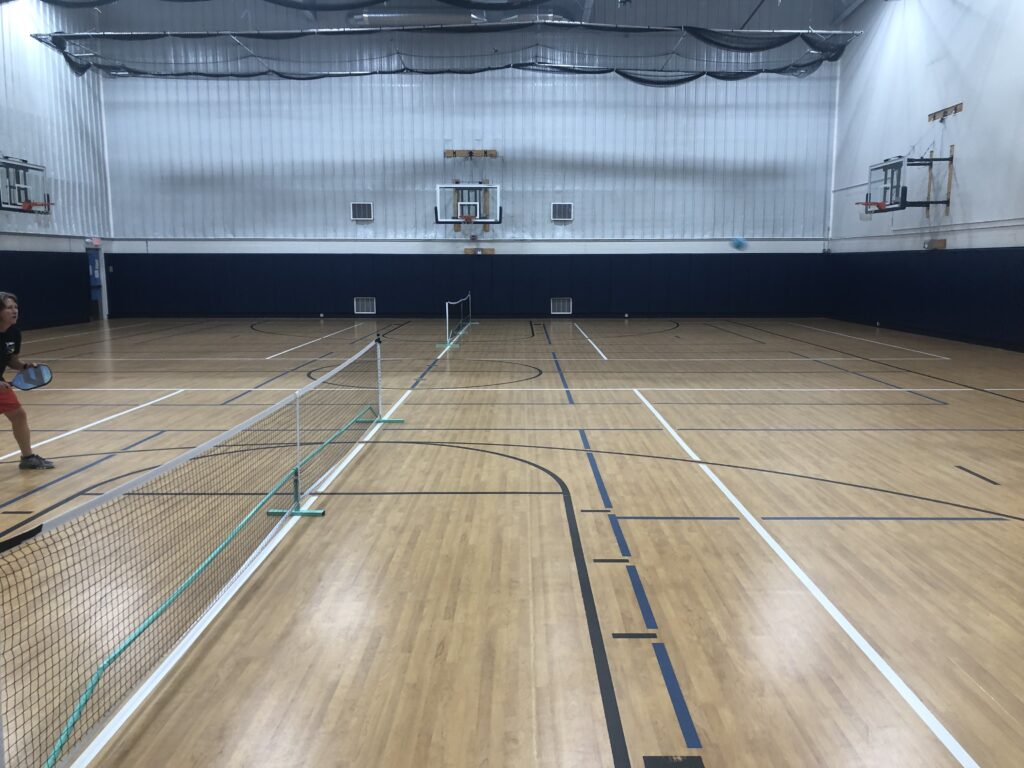 MIDSTATE ATHLETIC COMMUNITY CENTER
5575 Meltzer Ct #1, Cicero, NY 13039
3 courts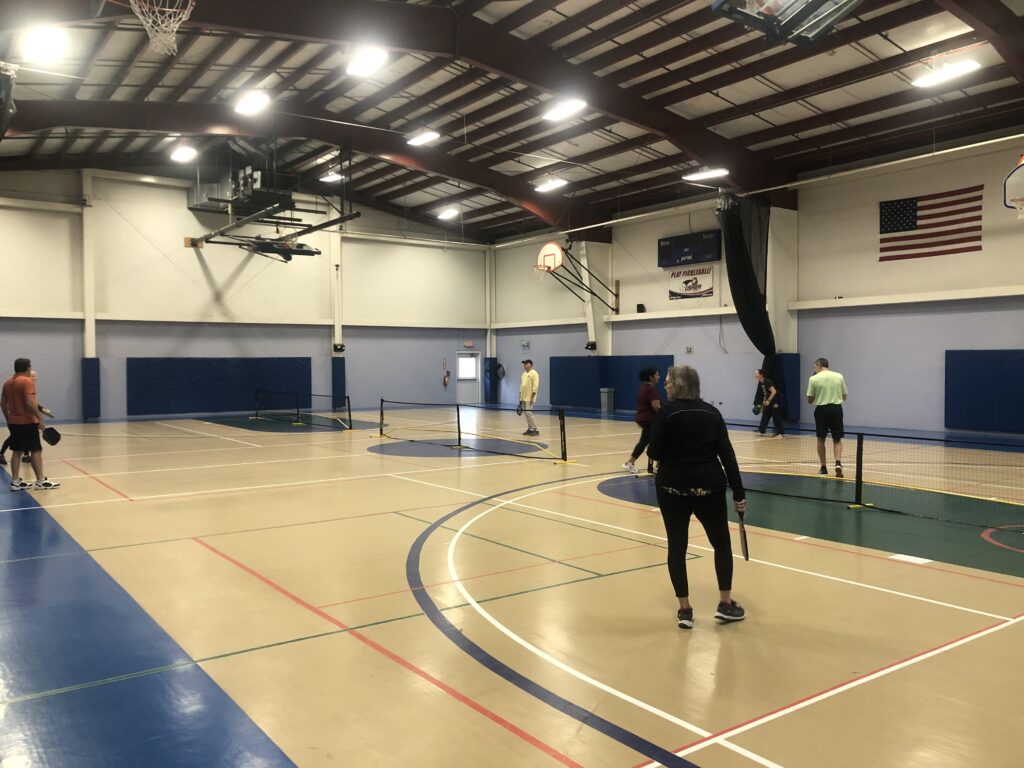 RED CREEK COMMUNITY CENTER
6592 South Street Red Creek, NY 13143 315-754-2065
See sign-up sheet for hours
Costs: $2 – member, $3 – non-members
Marc Blankenberg, Community Center Director/Athletic Director
mblankenberg@rccsd.org Athletic Office: 315-754-2084

JEWISH COMMUNITY CENTER
5655 Thompson Rd, Syracuse, NY 13214
Membership or $10 drop in fee

FULTON WAR MEMORIAL
609 W Broadway, Fulton, NY 13069
1 court

CORTLAND YMCA
22 Tompkins St, Cortland, NY 13045

REFUEL TOTAL FITNESS
513 W Union St #99, Newark, NY 14513
4 courts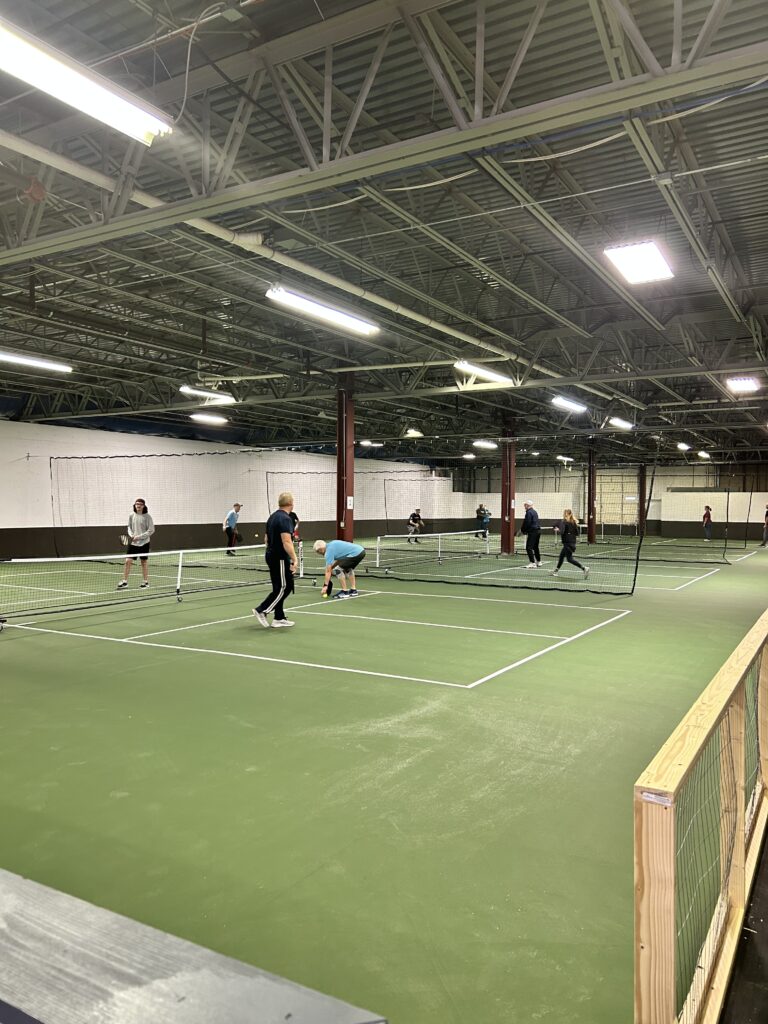 MANLIUS YMCA
140 W. Seneca St., Manlius, 13104
See sign-up sheet for hours
Contact: James Burgess 315-692-4777 x206

MANLIUS REC CENTER
1 Arkie Albanese Ave, Manlius, NY 13104
1 court

WHEELER ELEMENTARY
4543 S Onondaga Rd, Nedrow, NY 13120
Sat 2-4 through Onondaga Rec Desk Nov-April


OUTDOOR COURTS
ONONDAGA LAKE PARK
106 Lake Dr, Liverpool, NY 13088
12 brand new permanent dedicated courts
Radisson Community
3128 Amesbury Dr, Baldwinsville, NY 13027
6 permanent dedicated courts for residents only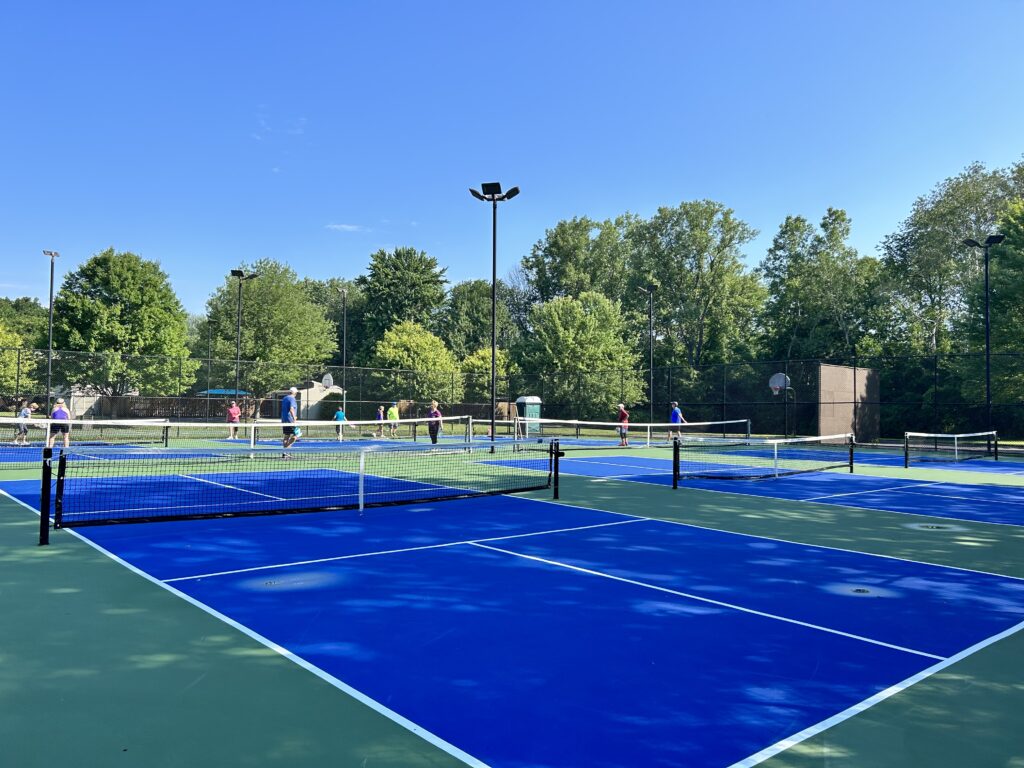 Munro Park
1st Street Camillus, NY 13031
4 permanent dedicated courts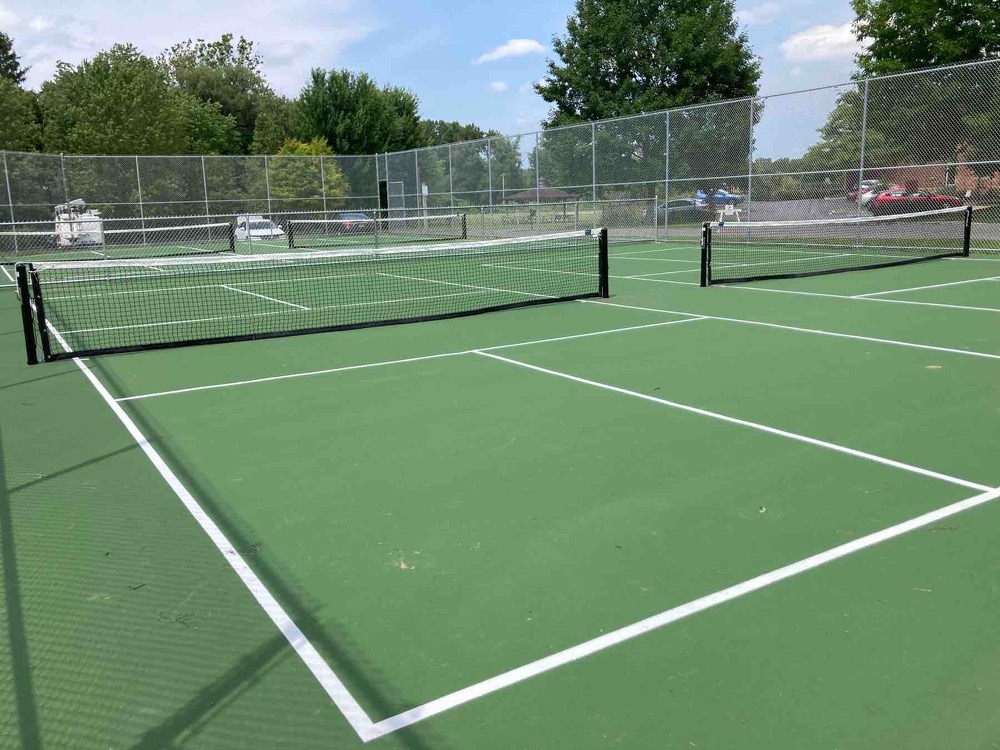 Lincoln Middle School
1613 James St, Syracuse, NY 13203
2 permanent dedicated courts, 2 bring your own nets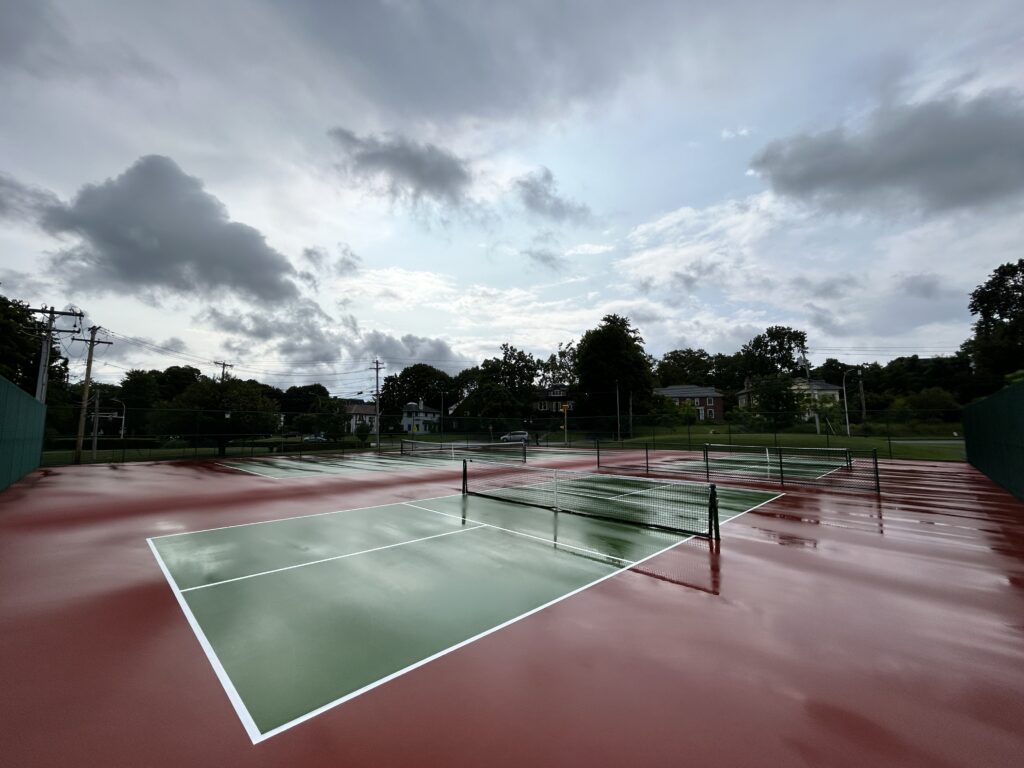 Skyway Park
Skyway Park 5950 E Taft Rd, North Syracuse, NY 13212
4 courts, 4 temporary nets at the park can be used during open play hours on the sign up sheet, otherwise BYO net
Courts 3 & 4 can be reserved on the spreadsheet for 2 hour blocks either 8-10am or 10-12am
Electronics Park
Larkin Street, Liverpool NY 13088
4 new dedicated pickleball courts with permanent nets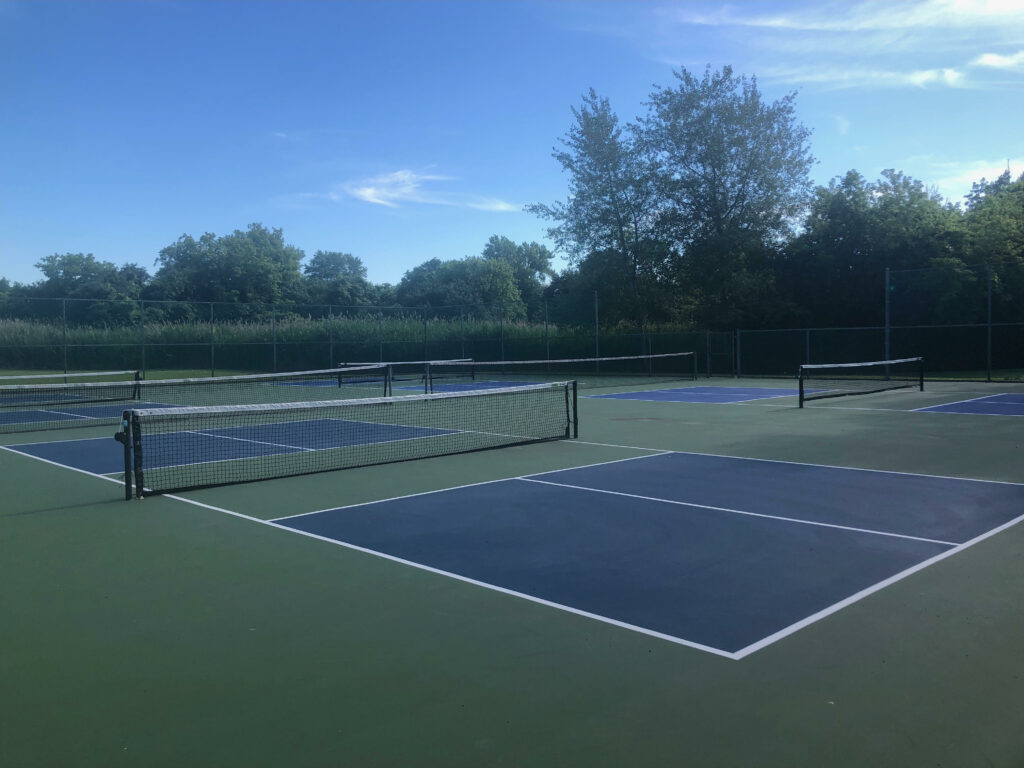 Santaro Park
4979 Velasko Rd, Syracuse, NY 13215
4 dedicated pickleball courts with permanent nets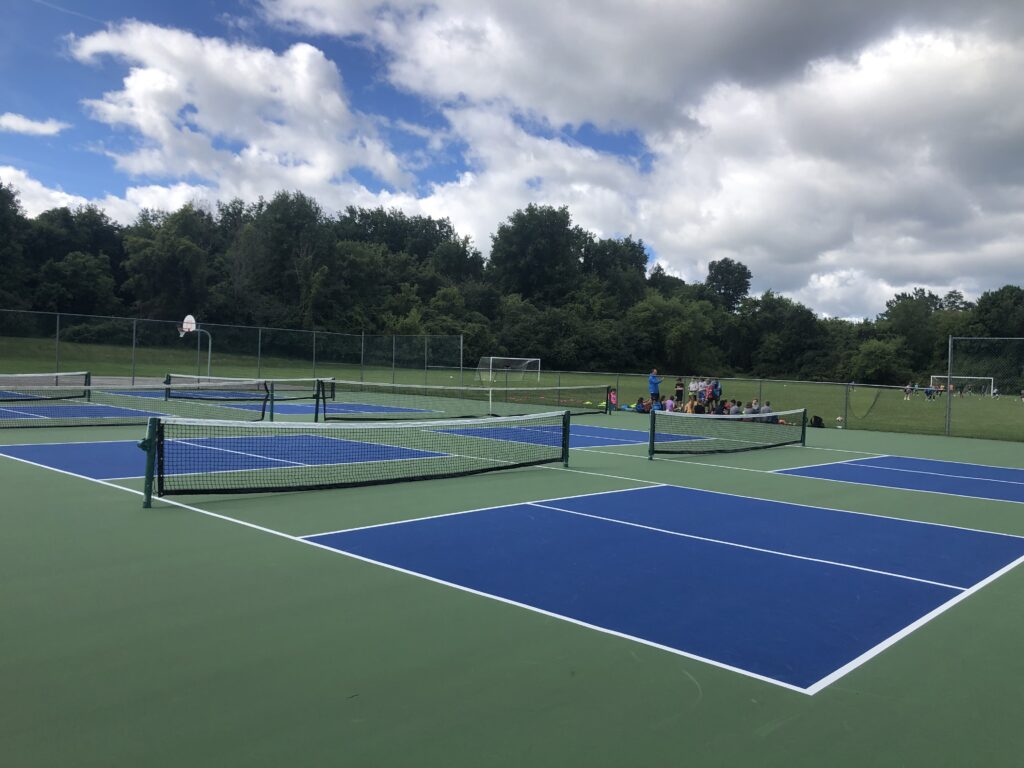 Duerr Park
Duerr Road, Liverpool NY 13090
2 dedicated pickleball courts with permanent nets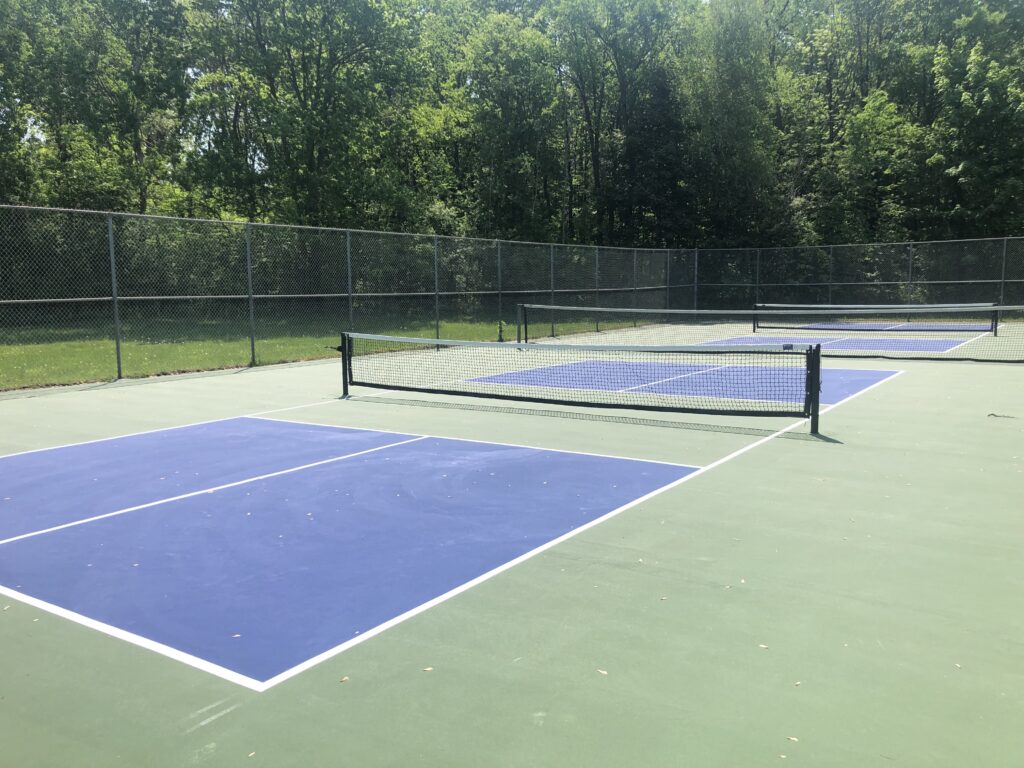 Camillus Park
Pool Road off West Genesee St., Camillus NY
9am til dusk
6 courts with permanent nets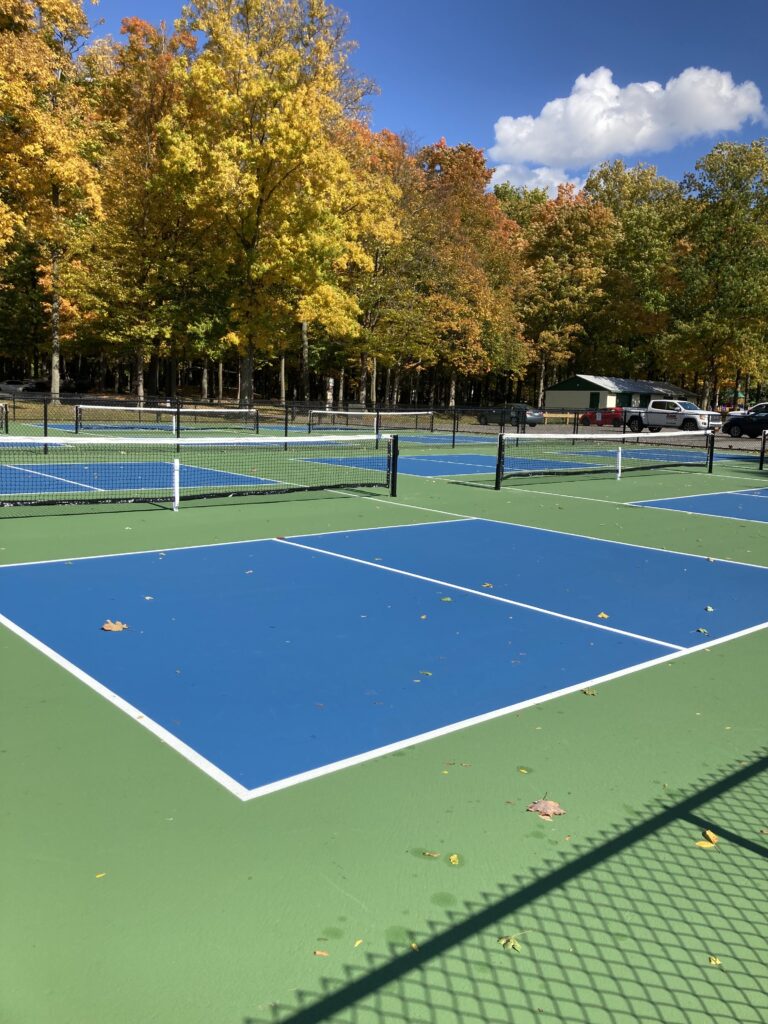 Cicero Elementary School
5979 Route 31, Cicero, NY
1 main court, faint lines on other 2. Must bring your own net. Hours of play- after 3 pm school days & weekends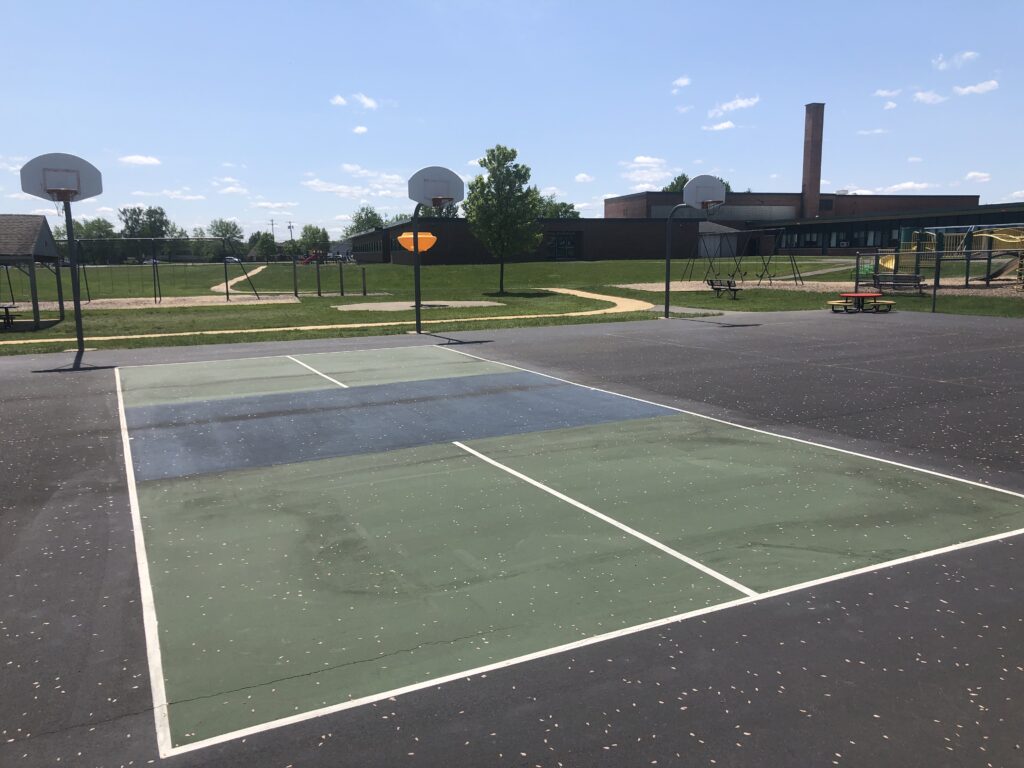 Ellis Field Park
512 McCool Ave.  East Syracuse, NY 
6 courts – 2 dedicated courts, 4 more temporary nets
Nets available in building. See sign-up sheet for hours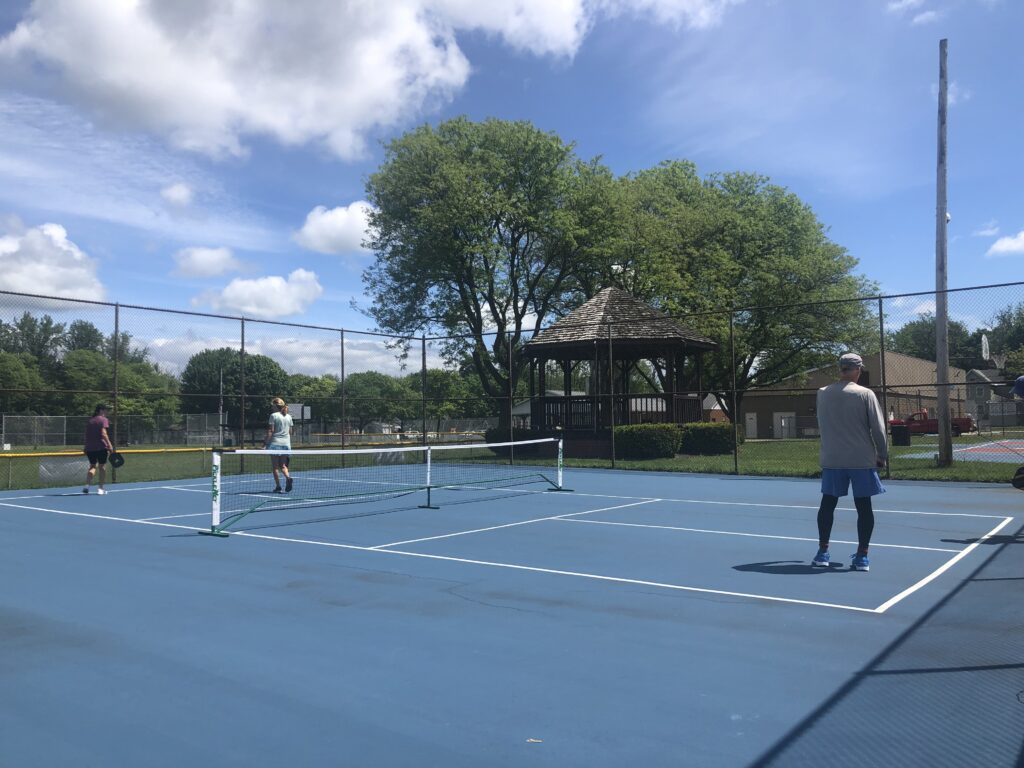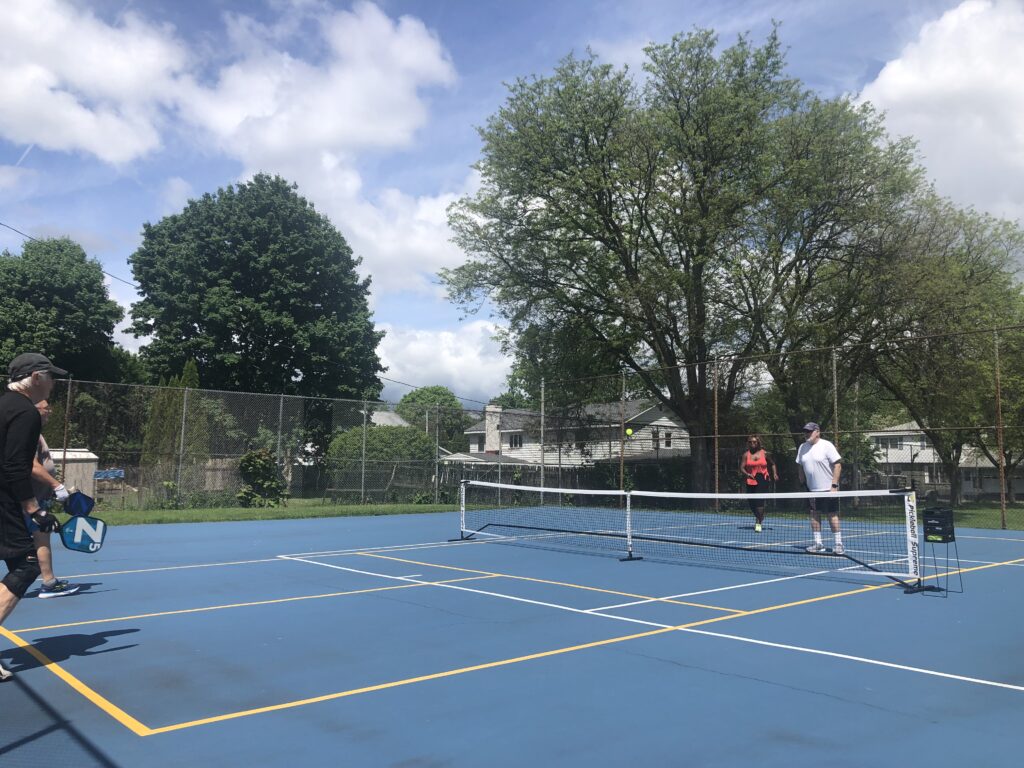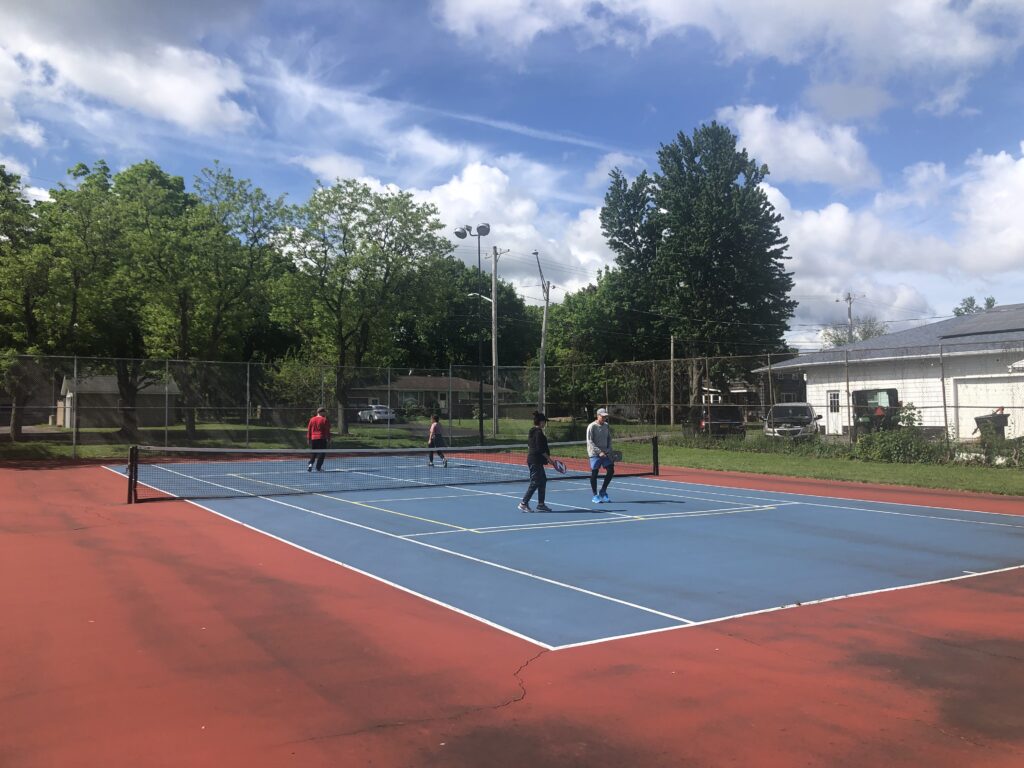 Lysander Town Park
8439 Smokey Hollow Road, Baldwinsville, NY 13027
4 dedicated pickleball, 4 additional courts with temporary nets available, see sign-up sheet for hours
Janet Reilly, Ambassador reillyjanet0@gmail.com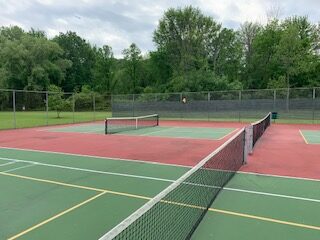 Magnarelli Community Center
2300 Grant Blvd., Syracuse, NY 13208
4 outdoor courts with nets available to set up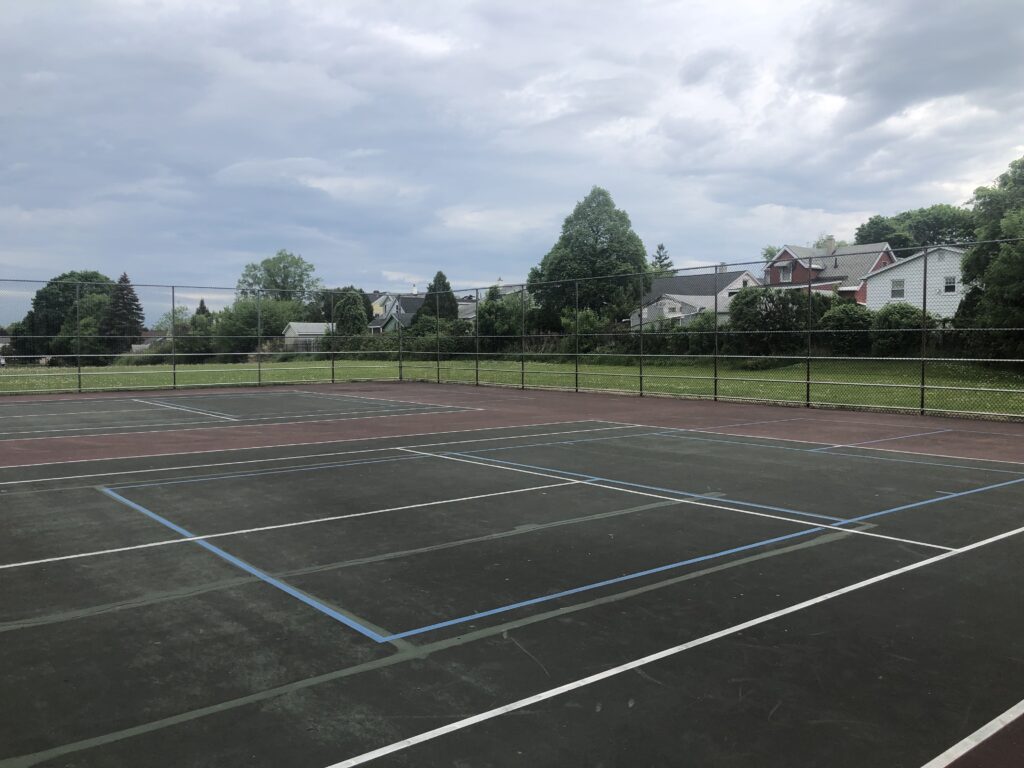 Marcellus Park
2443 Platt Rd. Marcellus, NY
Mondays and Wednesdays 9-Noon. 5 Courts with portable nets available other times from the office/shed
Bob Ciota, Coordinator. 315-383-1668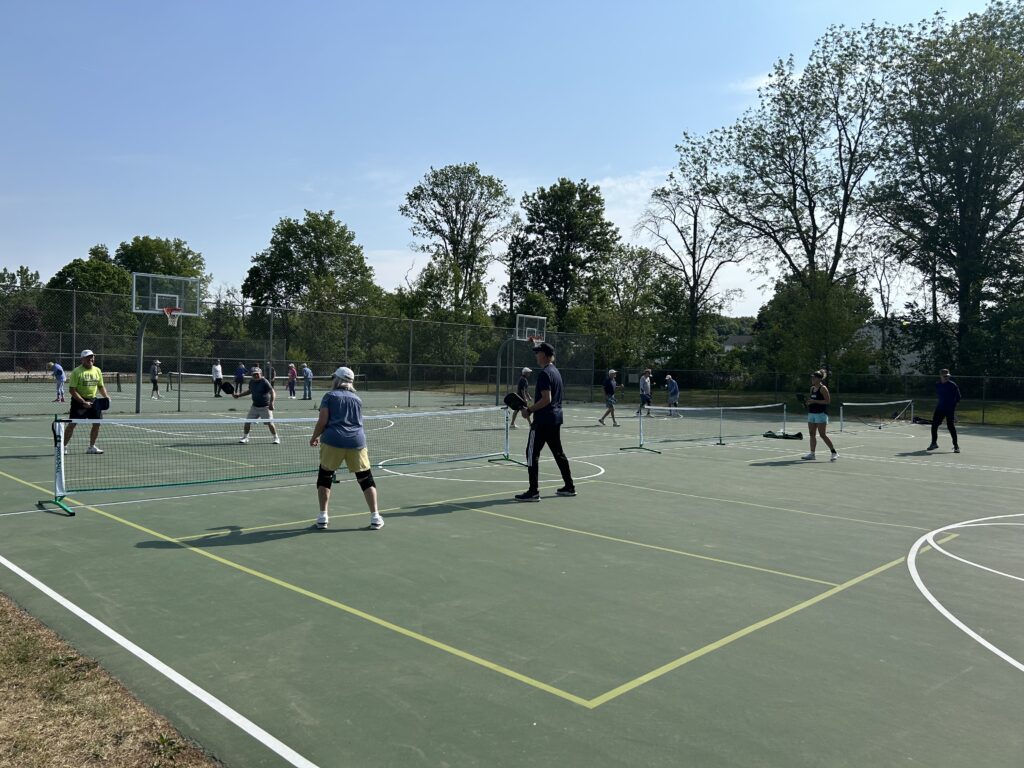 Homer Wheaton Park
274 Mountainview Ave, Syracuse, NY 13224
2 Courts with tennis nets
Shapiro Park
4 permanent dedicated courts
Oswego, NY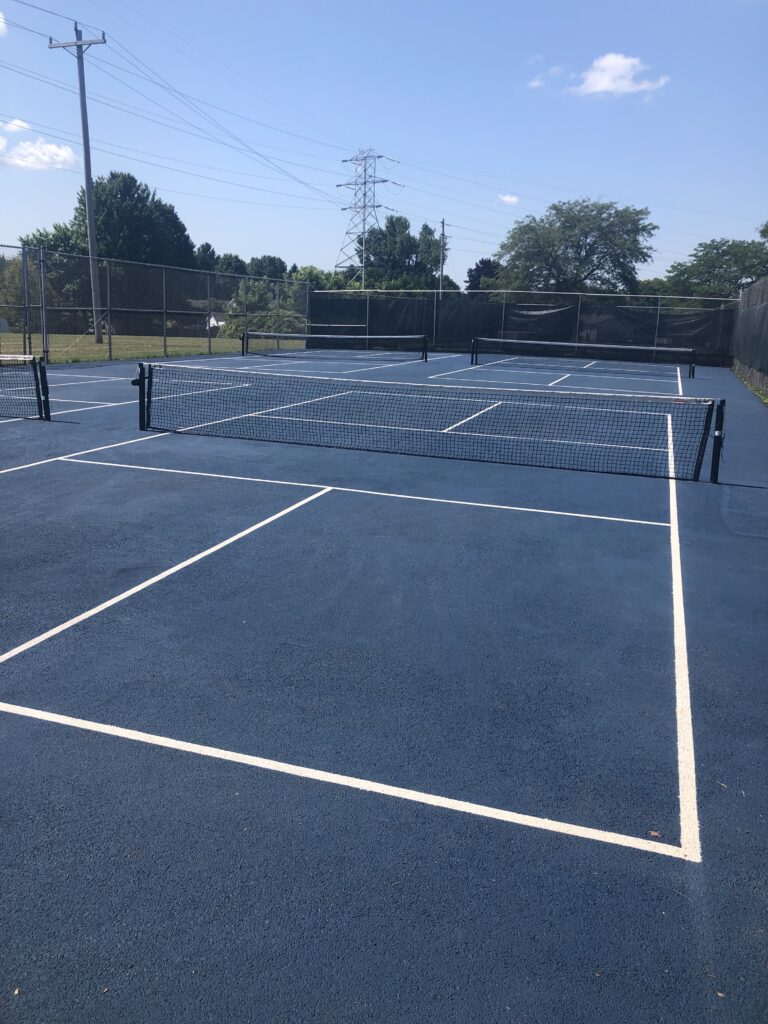 Sullivan Park
Chittenango Town Park, Chittenango, NY 13037
3 courts with tennis nets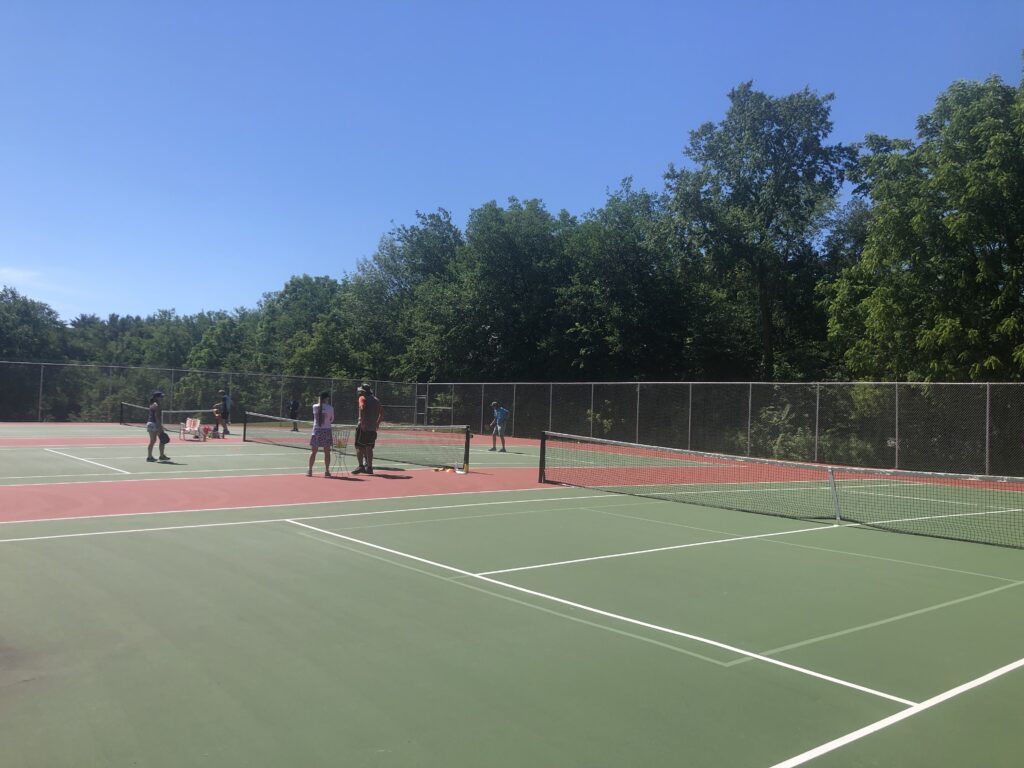 Meltzer Park
8400 Stearns Rd, Clay, NY 13041
4 dedicated pickleball courts with permanent nets
1 more on tennis net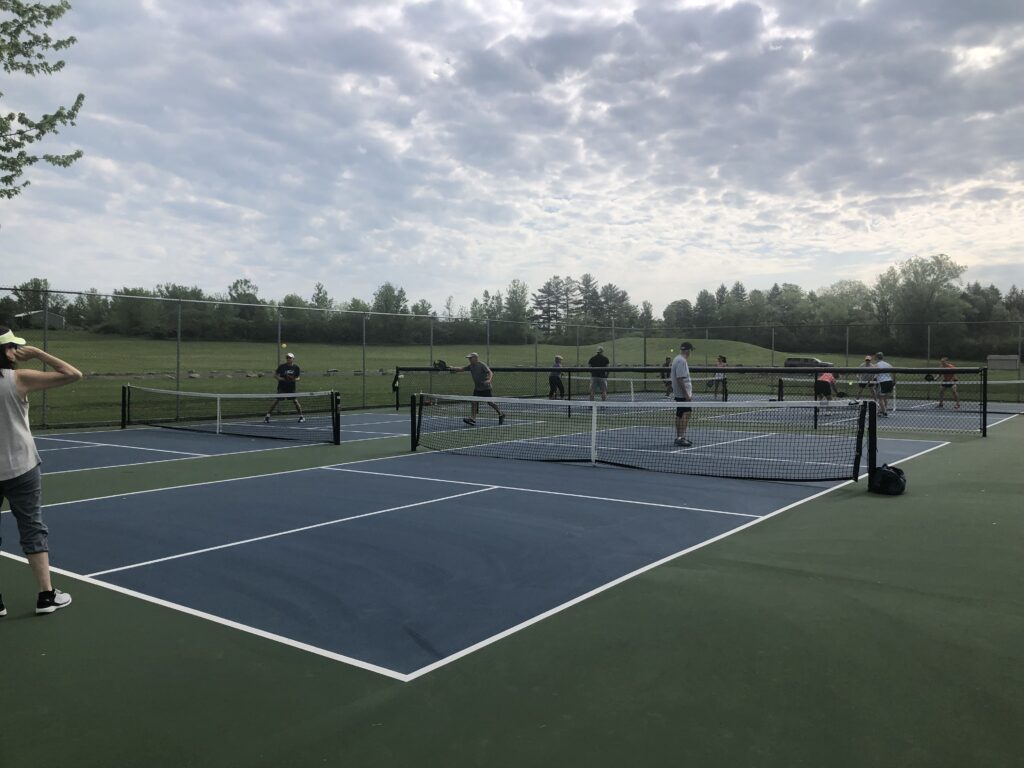 Meachem Park
3 courts on tennis nets
121 W Seneca Turnpike, Syracuse, NY 13205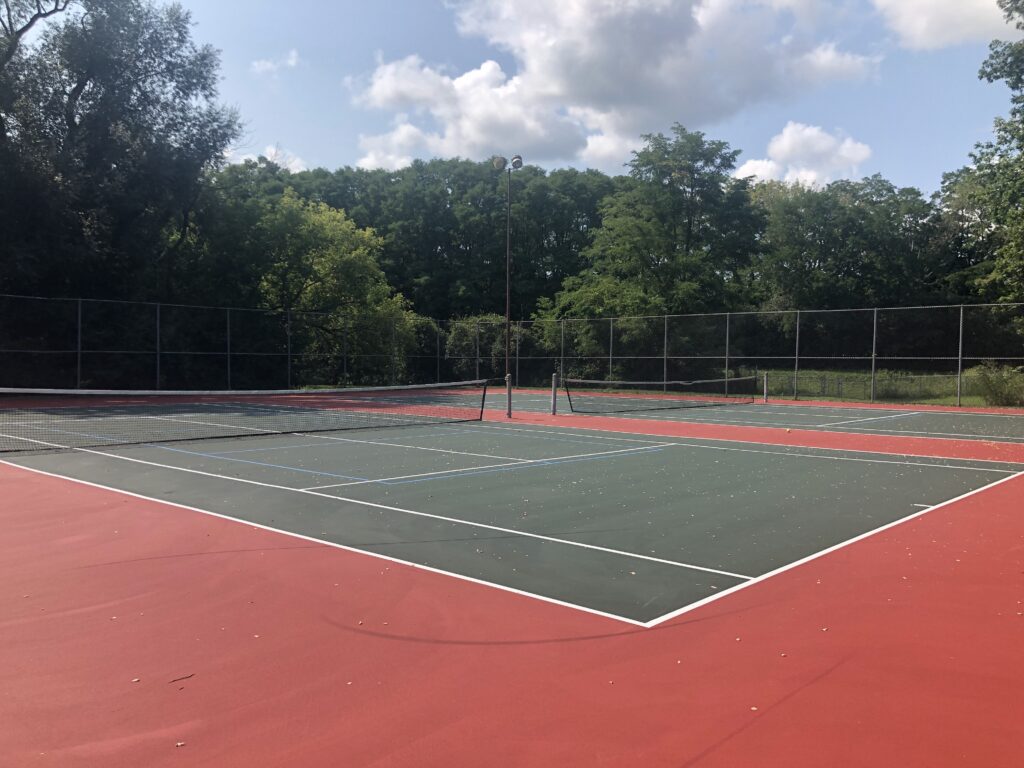 Mexico High School
4 courts, Bring your own Nets
3338 Main St Mexico, NY 13114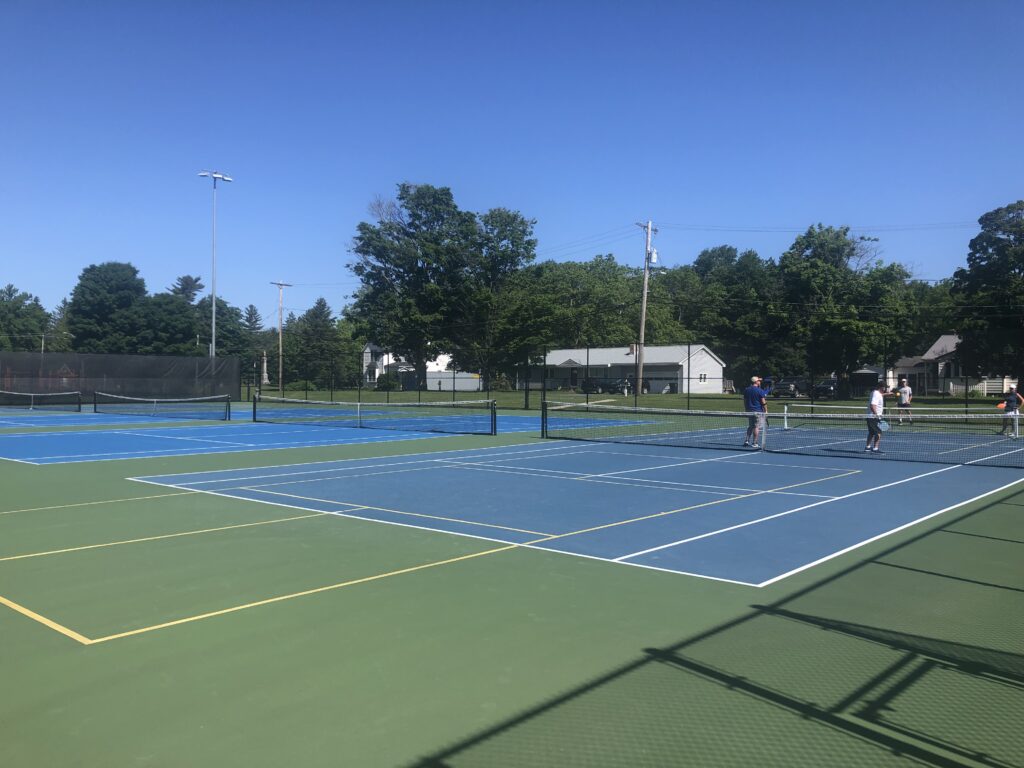 Owasco Park
4 dedicated courts
6 Bristol Ave, Auburn, NY 13021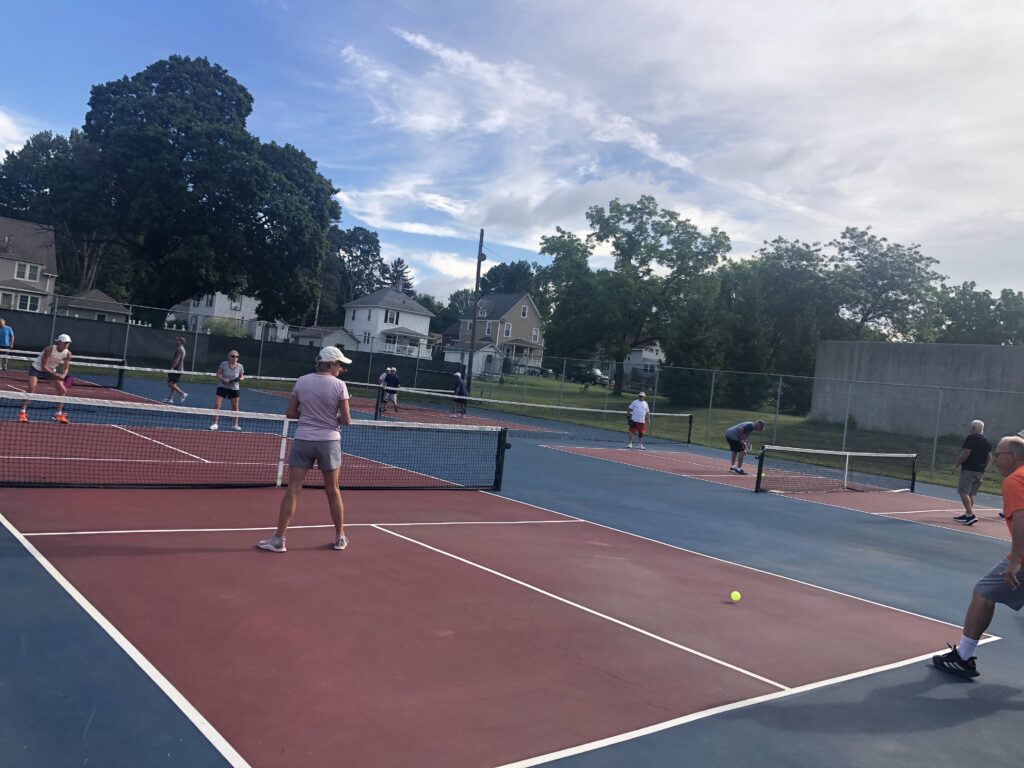 Austin Park
4 courts on basketball courts with portable nets
Next to YMCA on State St, Skaneateles, NY
Play is same as schedule for Skan YMCA above, either indoor or outdoor depending on weather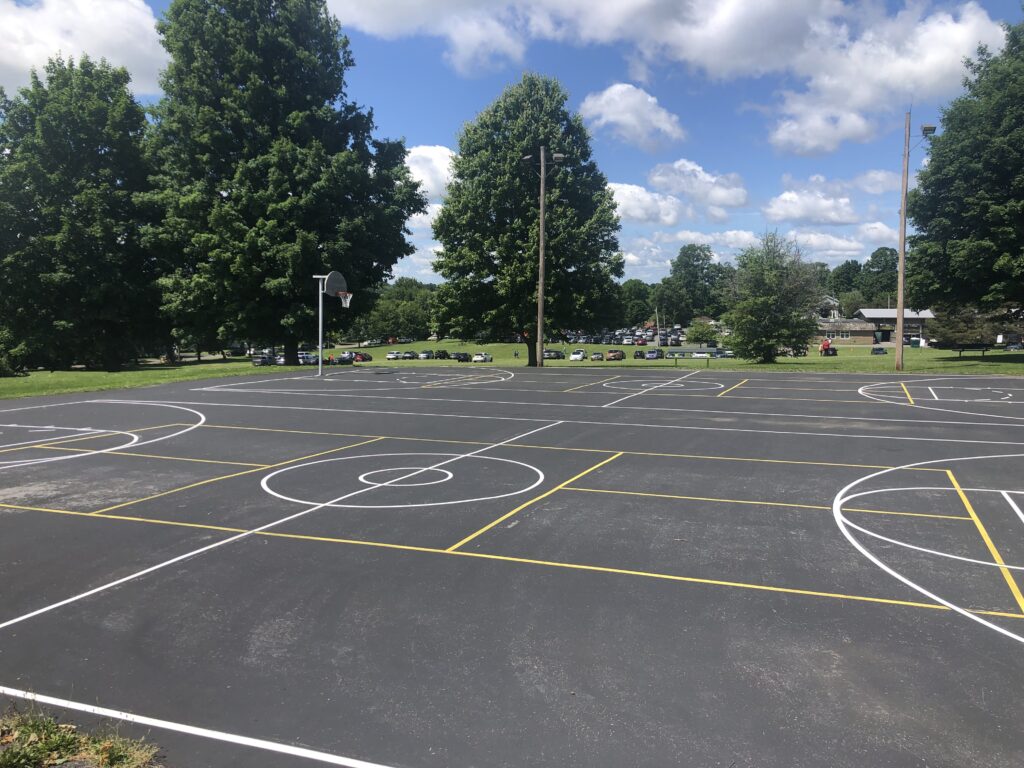 Van Buren Central Park
7350 Canton St, Baldwinsville, NY 13027
2 courts – Bring your own net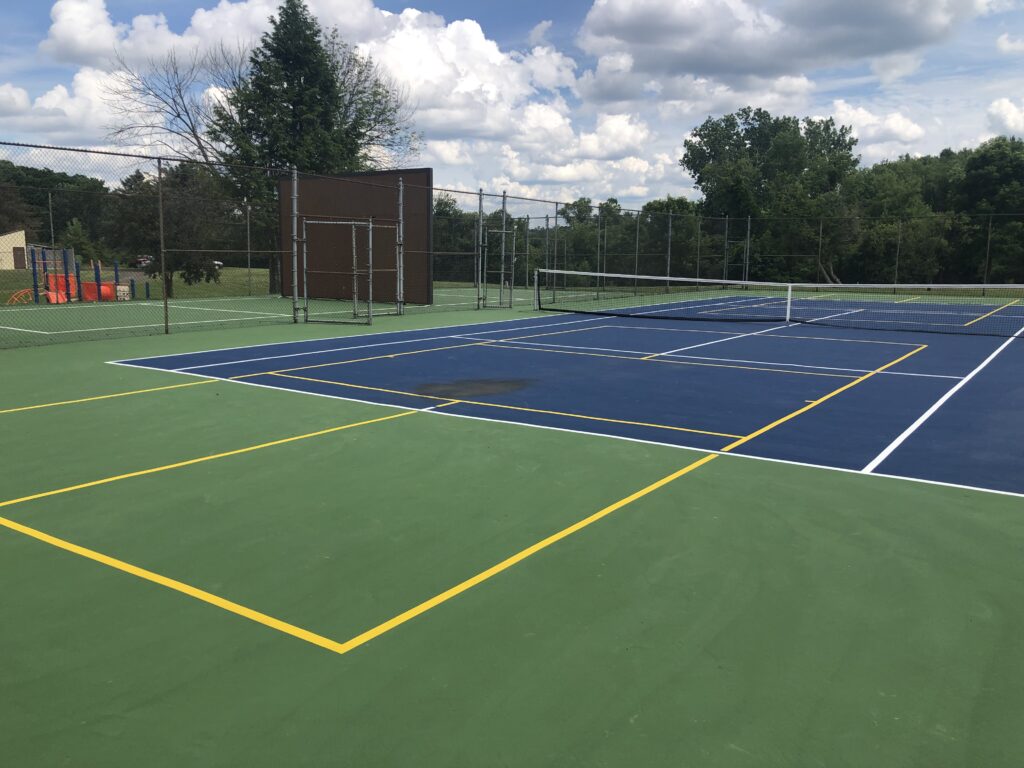 King Memorial Park
4030 Split Rock Rd, Camillus, NY 13031
2 courts with tennis nets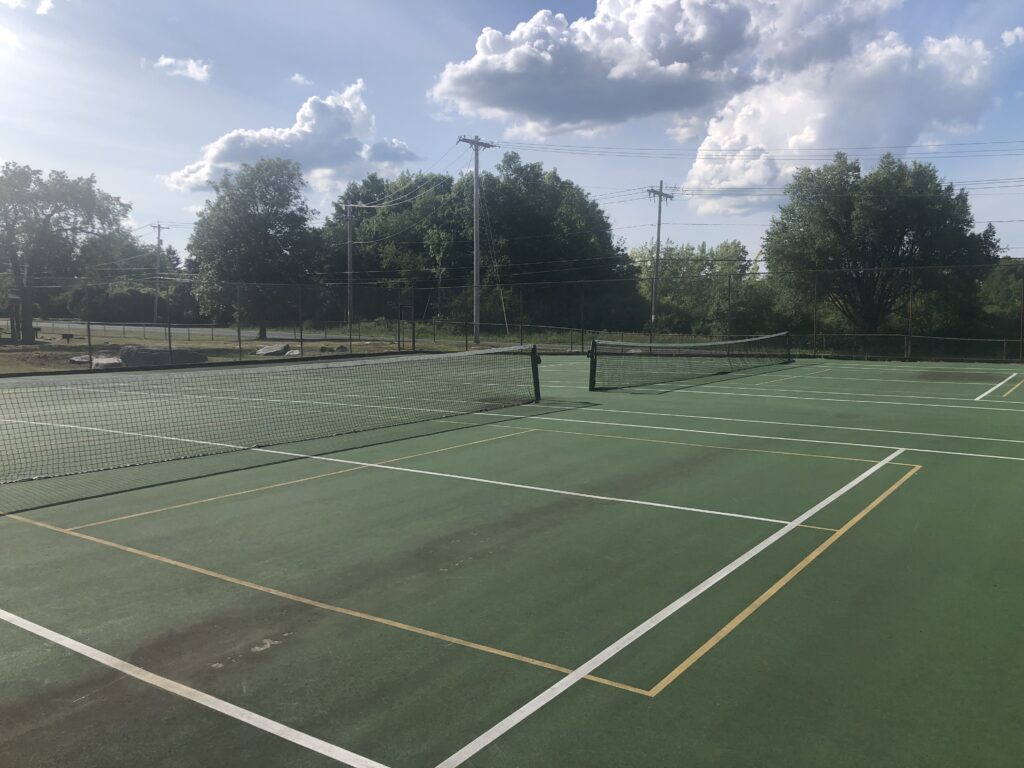 Burnet Park
Syracuse, NY 13204
2 courts using tennis nets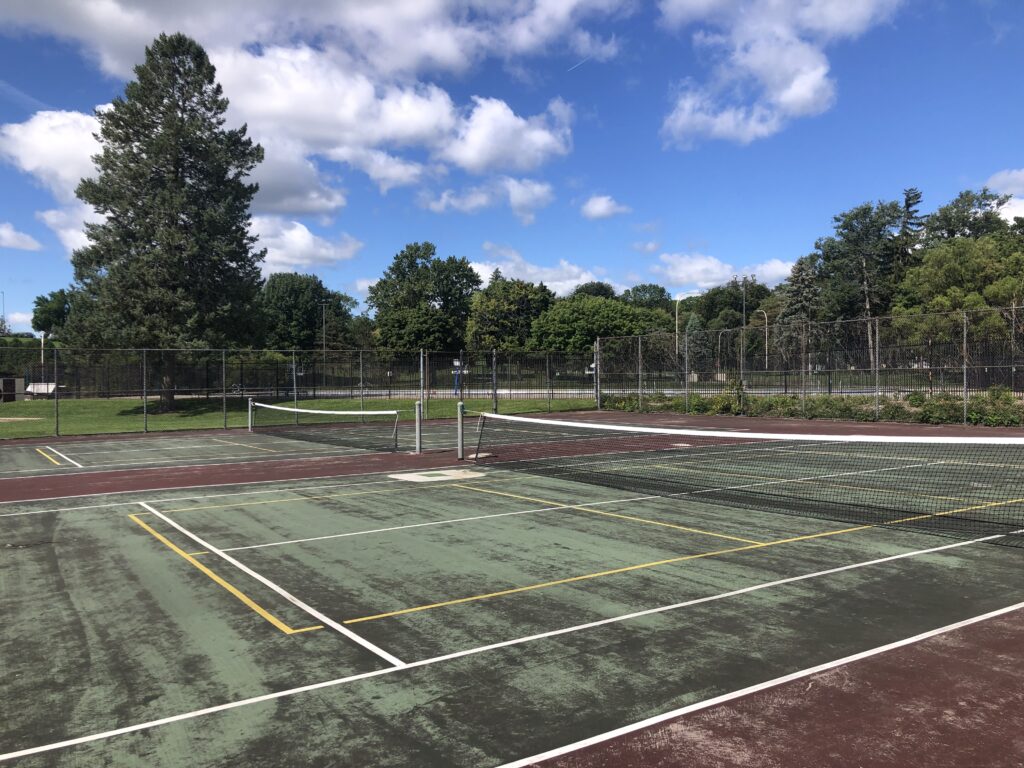 Clay Central Park
4821 Wetzel Rd, Liverpool, NY 13090
3 courts using tennis net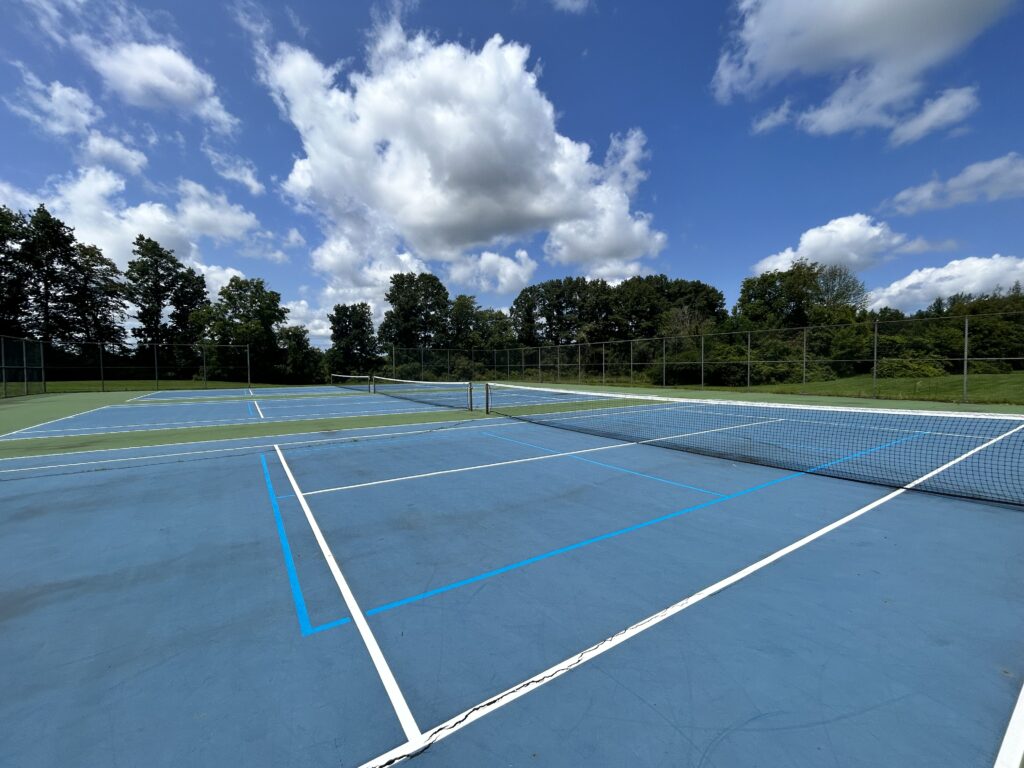 Wadsworth Park
1234 Glenwood Ave, Syracuse, NY 13207
2 courts using tennis nets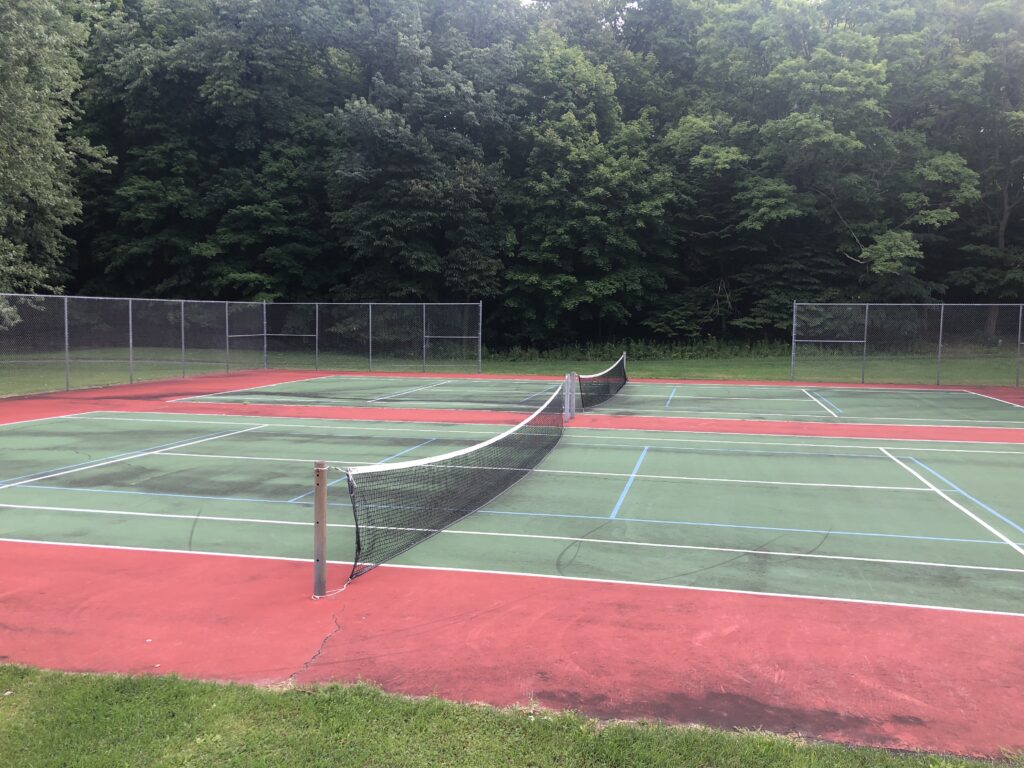 William J Farley Community Park
132-198 Chestnut St in Phoenix
1 court using a tennis net
Enders Road Elementary
4725 Enders Rd, Manlius, NY 13104
4 courts with tennis nets
Lines repainted since picture below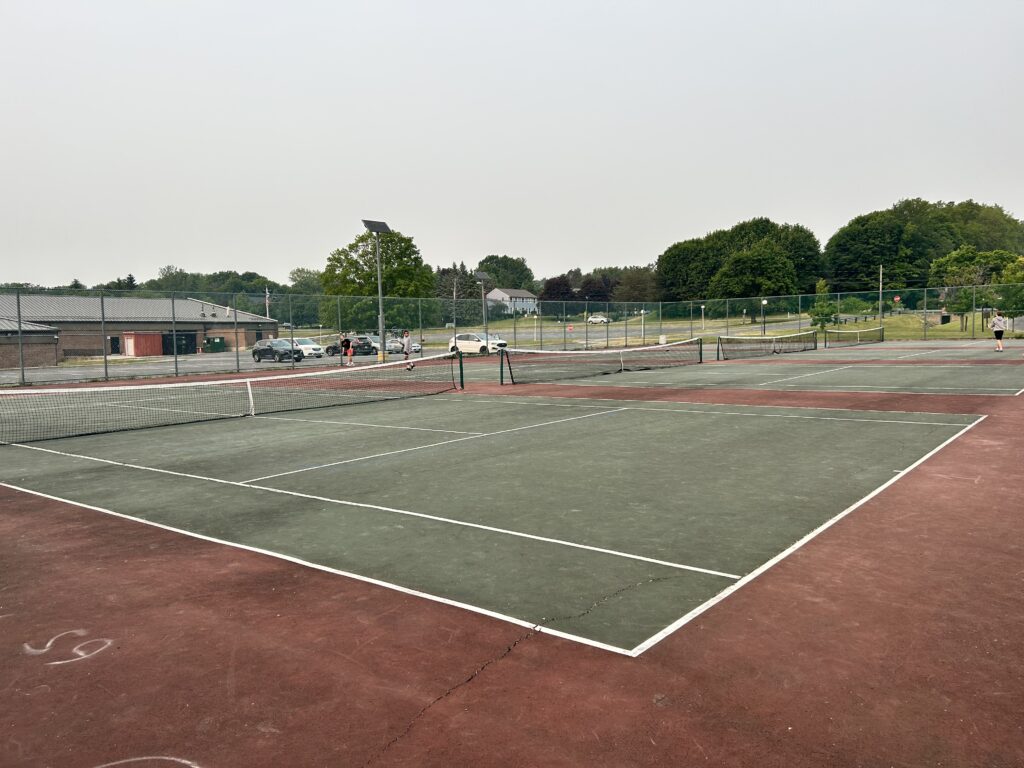 Tully High School
5833 Meeting House Rd, Tully, NY 13159
2 courts with tennis nets

Burton Street Elementary
37 Burton St, Cazenovia, NY 13035
1 permanent court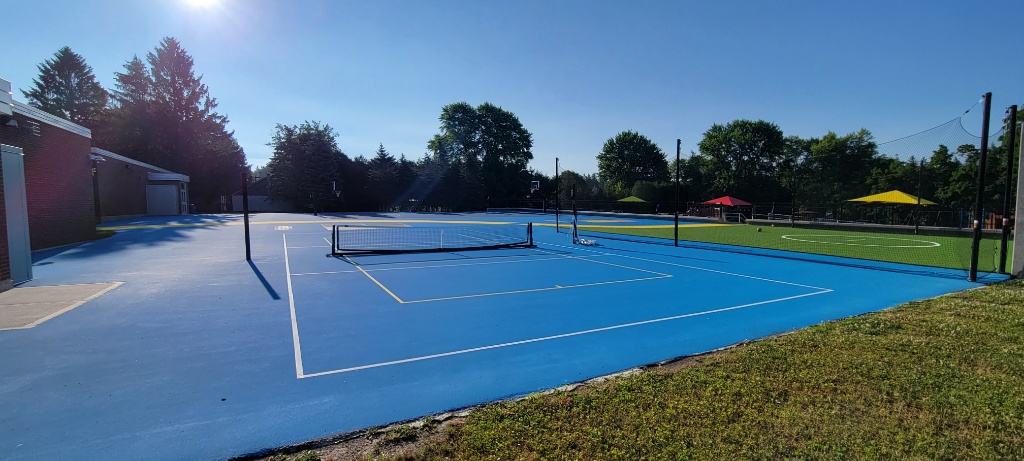 Casey Park
150 N Division St, Auburn, NY 13021
2 dedicated courts, 4 rolling nets on tennis
Indoor option during the summer only with 5 courts as well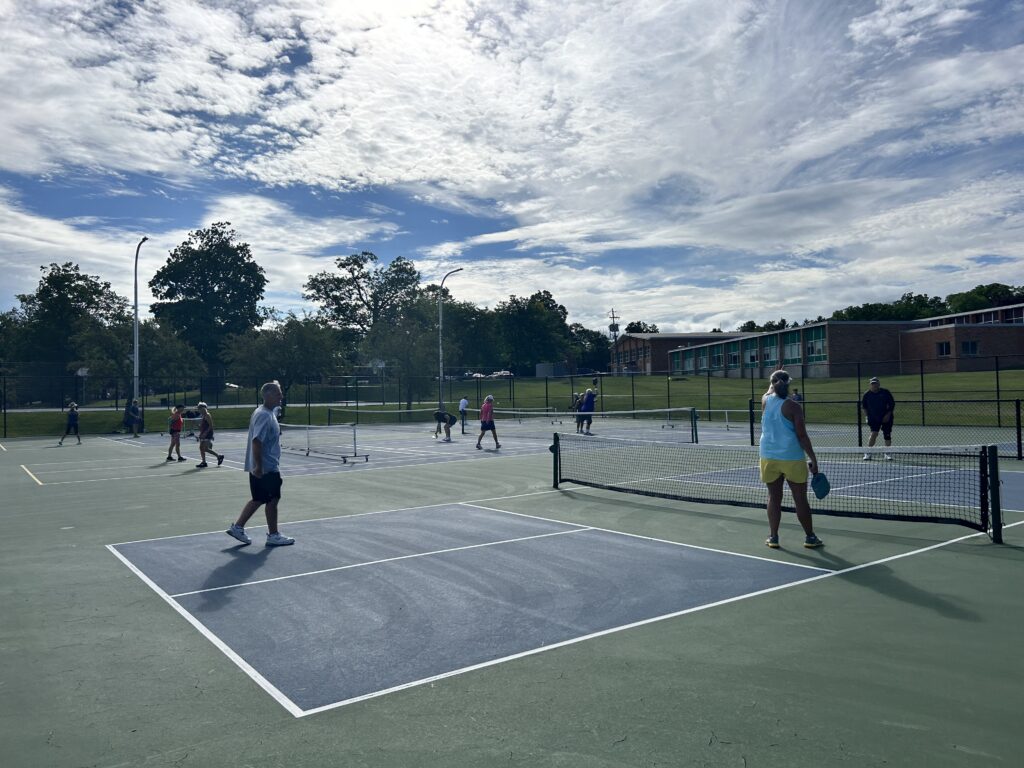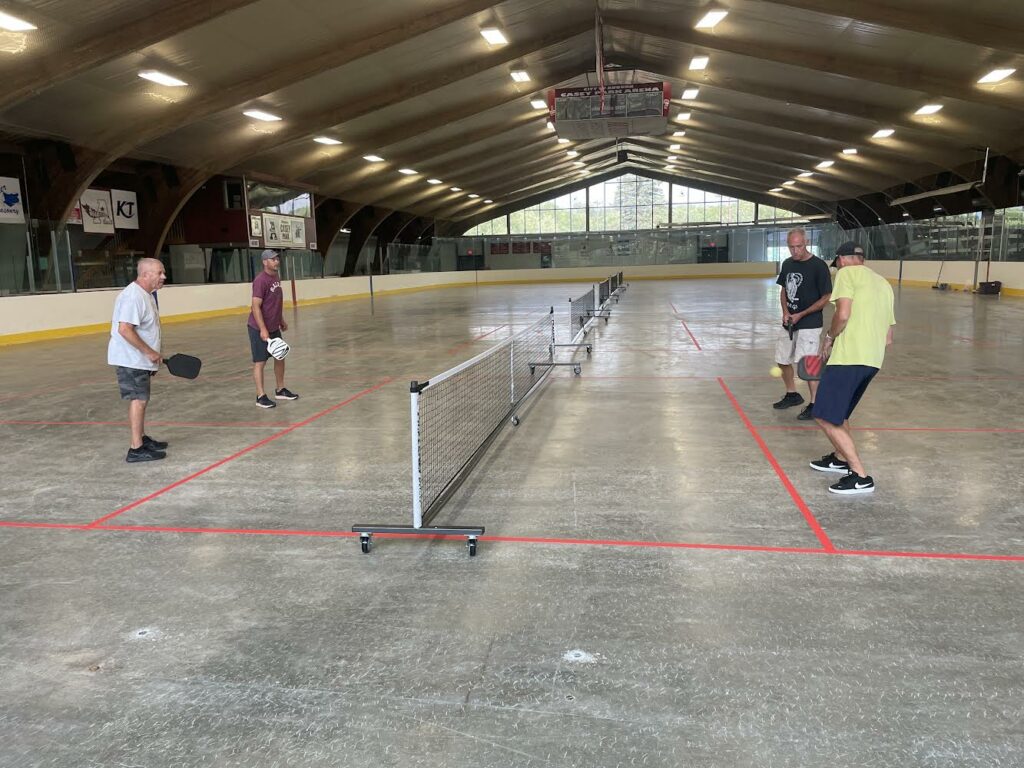 Jewish Community Center
5655 Thompson Rd, Syracuse, NY 13214
Membership or $10 drop in fee
Being resurfaced

Sherrill Brook Park
Sherrillbrook Rd, New Hartford, NY 13413
6 permanent courts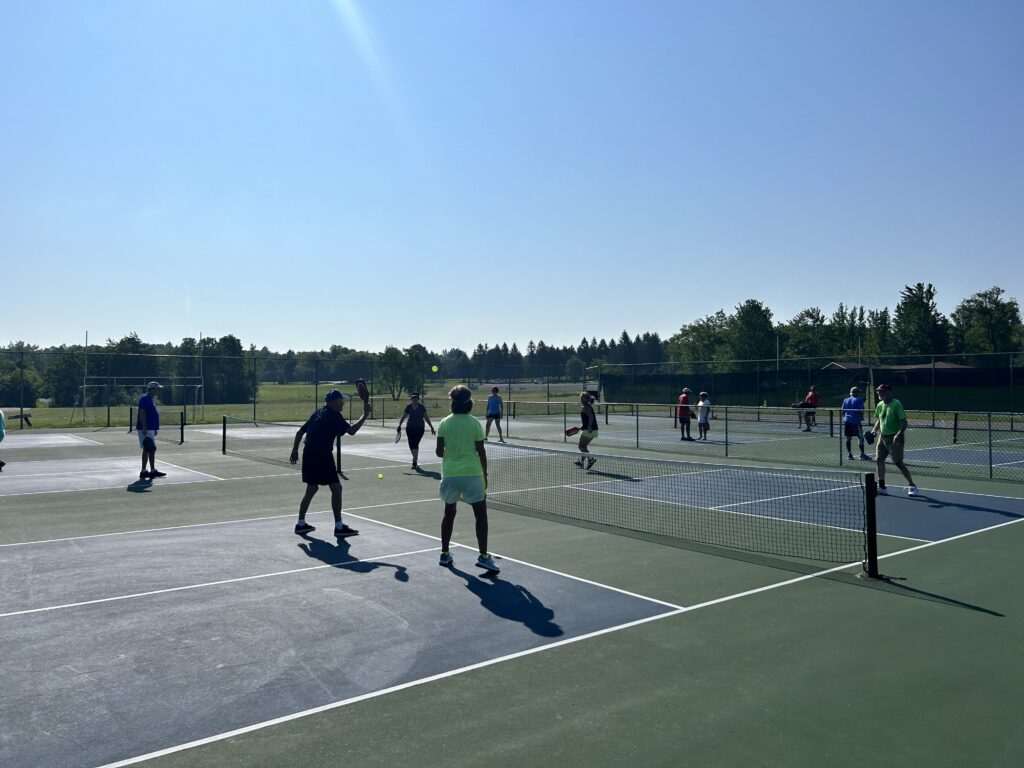 Wellwood Middle School
700 S Manlius St, Fayetteville, NY 13066
2 courts using tennis nets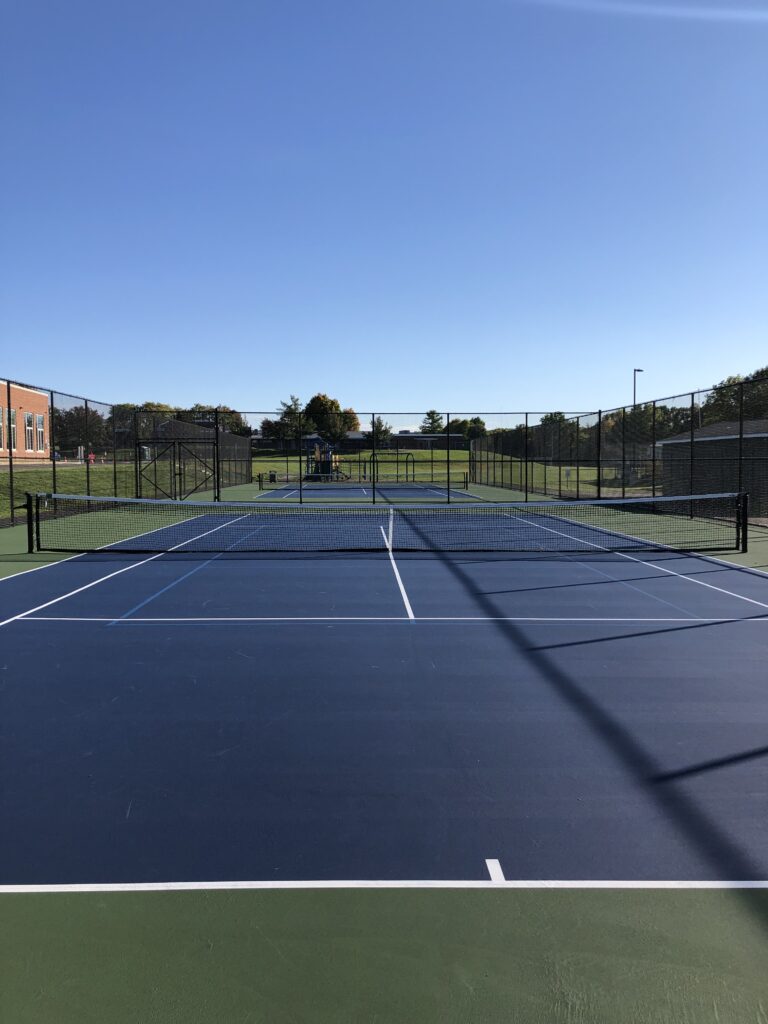 Comfort Tyler Park
1212-44 E Colvin St, Syracuse, NY 13210
1 court on tennis net